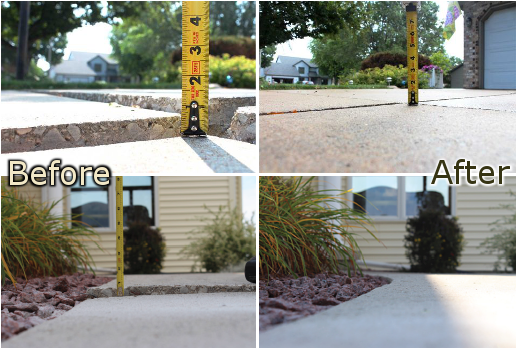 Uneven concrete? Don't replace it — raise it!
Uneven concrete can cause all sorts of problems: it's a trip hazard; it makes raking leaves or shoveling snow a chore; it can even threaten the structual integrity of buildings. Not to mention it just looks bad. But Design Paving LLC can help!
Give new life to cracked or uneven concrete with our state-of-the-art concrete lifting technology. We use polyurethane foam injection to raise and level slab concrete in a matter of hours, and at a fraction of the cost of other methods. This material will never lose density, is permanent and weighs only about 2 lbs. per cubic foot.
Polyurethane foam-based concrete lifting is ideal for a wide variety of residential, commercial and municipal applications, including:
Sidewalks & Walkways
Driveways & Carports
Porches & Stoops
Patios & Pool Surrounds
Garage & Factory Floors
Roads, Streets & Highways
Bridge Approaches
Curbs & Gutters
...and much much more. Contact us today for a free estimate!