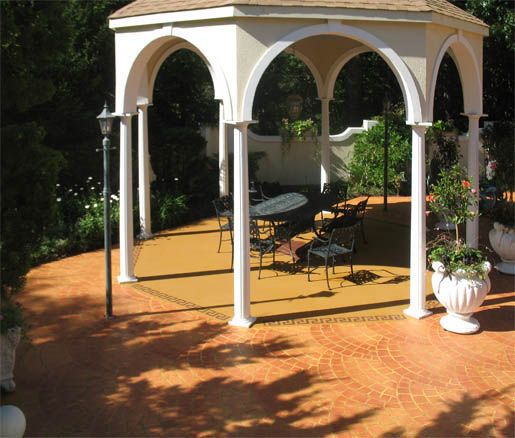 Who knew hardscapes could look like this?
Design Paving LLC's StencilCoat technique works on concrete as well as asphalt, and can achieve amazing results on either.
The process looks somewhat similar to asphalt imprinting—a stencil template is used to create patterns. But instead of stamping the design into the surface, StencilCoat works by placing a stencil over the hardscape surface and building up a pattern with layers of textured resins.
Just like with imprinting, templates are available in a wide variety of sizes and styles, and the resins come in a stunning array of colors. And, just like with imprinting, both can be custom-made just for your project.
Get the look of real stone—or virtually any look you wan—with custom faux finishes.
Don't forget! To see more examples of our work,
visit our gallery of past projects.