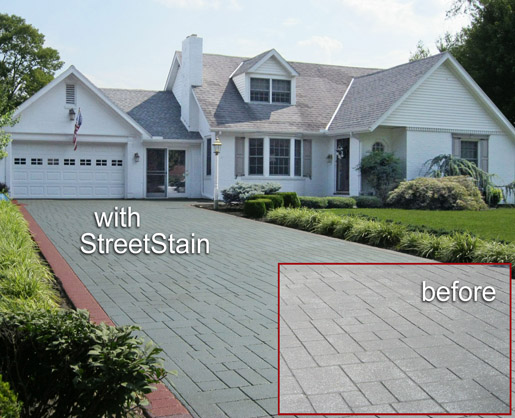 Who knew hardscapes could look like this?
Give your asphalt or concrete a color boost with new StreetStain. Better than black asphalt sealer, StreetStain contains no coal tar or asphalt ingredients, and so produces no hazardous wastes--better for you and the environment. Application is fast--StreetStain dries quickly and will not track onto other surfaces.
There are multiple stock colors to choose from, or we can customize to suit your project. And since StreetStain is UV-resistant, your color will stay true for years. It can be applied to ordinary or imprinted asphalt, to plain or stamped concrete, and even over existing asphalt sealer.
StreetStain is ideal for a wide variety of projects, including:
Walkways
Safety Zones at Schools & Hospitals
Raised Medians
Delineation on Streets & Parking Lots
Bike Paths
Golf Cart Paths
Driveways
Refreshed stamped concrete or concrete pavers
...and much much more. Contact us to find out more.
StreetStain is a Pattern Paving Product