Repair flawed asphalt seamlessly with
Asphalt Reheating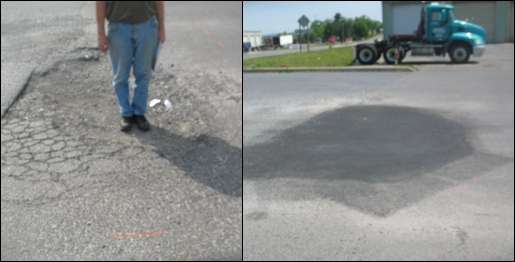 Have you ever seen a pothole repaired, only to have it reappear after a bit of cold weather or a little mild wear? That's because ordinary patching procedures leave porous seams that let in moisture and other contaminants, leaving the patch vulnerable to the same issues that created it in the first place.
With Design Paving LLC's advanced asphalt reheating technology, that's not a problem. Rather than simply cutting out the broken asphalt and dumping in new, we gently and safely reheat the borders of the patch and blend the old and new asphalt together, creating a seamless surface that's as well sealed as a newly paved street.
This process is ideal for repairing cracked or broken asphalt, for levelling an uneven surface, or for connecting existing pavement to new installations. Our asphalt restoration services can save you from needing to replace damaged surfaces, which can save you hundreds or even thousands of dollars!
Contact us to find out what we can do to restore your asphalt to like-new condition.