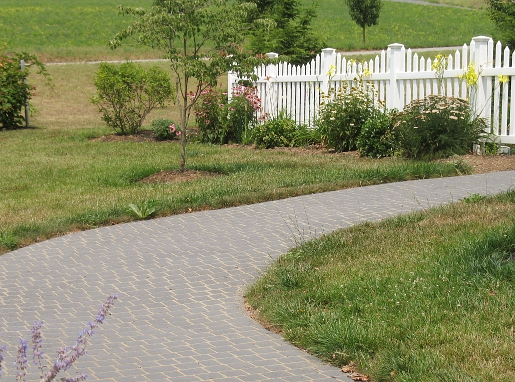 One of the best features of Design Paving LLC's decorative hardscape surfaces is their durability, which means maintaining them is almost as easy as an ordinary asphalt or concrete surface. There are just a few things you should know about to keep your hardscape looking good as new:
Clear dirt and gravel from the surface with a soft broom or garden hose. Driving over gritty material will result in a grinding action, causing premature wear of the color coating and may chip the edges of imprinted brick or stone patterns.
Use a snow shovel with a rubber edge or a snow blower to clear snow, and apply ice melting chemicals as needed. Ice melting chemicals and salt will not affect the color coating.
The leaves or seeds of some trees (maple, walnut) may stain the color coating. Light color coatings tend to show staining more readily than darker colors. If leaf staining is a problem, regularly clear the surface with a broom, leaf blower, or garden hose.
Though oil leaks are unsightly, they do not affect the color coating. To remove oil, use a mild degreaser or detergent.
Rubber left on the surface by spinning wheels or skidding to a stop may leave black marks, which are difficult to remove. However, they do fade and eventually disappear over time. A strong degreaser, such as automotive hand cleaner, may be helpful. Scrub the affected area with degreaser and wash off with water.
Click here to open these instructions in downloadable PDF format.
Following these simple recommendations will preserve your hardscape surface for a long time. But if they're not enough, or if your surface has been seriously impacted by weather and use, Design Paving LLC offers long-term care services at very reasonable prices.