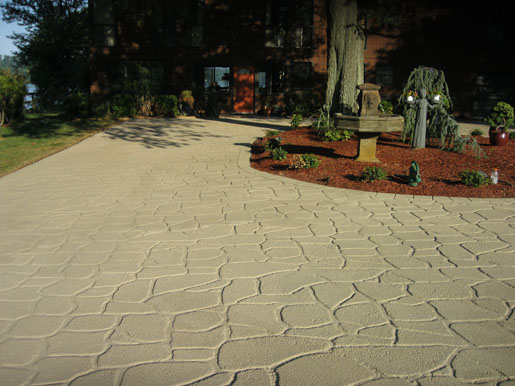 Who knew asphalt could look like this?
Design Paving LLC's specialty is asphalt imprinting, an innovative techniqe that can make ordinary asphalt take on the appearance of brick, stone, or any number of other paving materials.
To achieve this, the asphalt is softened and then stamped with a pattern using a wire or plastic template. This process works on existing asphalt as well as newly-installed asphalt.
Templates are available in a wide variety of sizes and styles--they can even be custom-made--and we will work with you to find a design that coordinates perfectly with your architecture and landscaping.
Once the asphalt is imprinted, we give it a finished look by color-coating it with ultra-durable high-polymer resins.
Don't forget: To see more examples of our work,
visit our gallery of past projects.